"Bringing The Great American Song Book into the 21st century"
Hey friends & fans,
Thanks for visiting my site.  Browse around, listen to my music, check out the photo's and video's page, see where I'm playing, Buy a CD.  Hope to see you at one of my shows, or on the bandstand.
Jerry Costanzo
Considered one of the Best and busiest Singer/Bandleaders on the scene today. Jerry has gained popularity among connoisseurs of jazz & swing, young and old. His interpretations of tunes from the "Great American Song Book" and legendary singers like Frank Sinatra, Dean Martin, Bobby Darin, Nat King Cole and others, plus, the sight, sound, and music of the great big bands, will set the stage and carry you back to an era when this sultry and swinging music was the "Pop" of the day .
"It wouldn't be an overstatement to say that Jerry Costanzo is on par with living legends like Tony Bennett and the like. His love for the clas- sic jazz repertoire is unquestionable and his mu- sical skill set is more than ample. In the realm of traditional song interpreters it doesn't get much better!"  ~ Jazz Inside Magazine
---
 LATEST NEWS: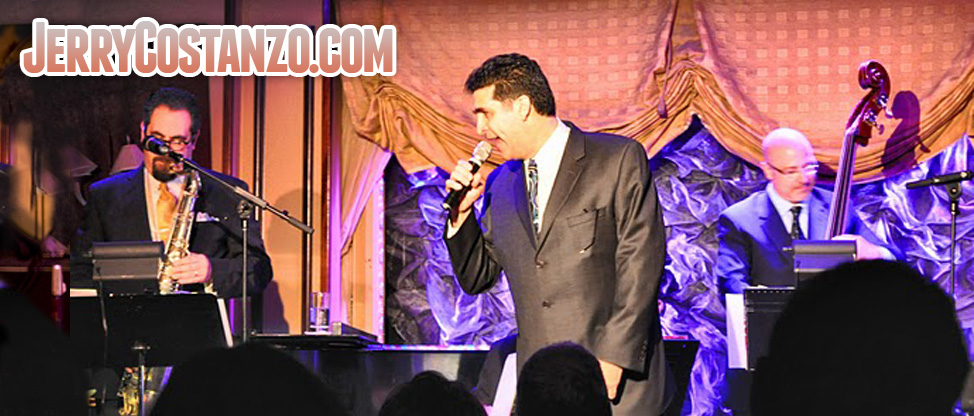 Folks, Wanted to take a moment to remind you that my band and I are available for all sorts of private parties and corporate functions. Let us bring our brand of Retro entertainment to your event with music that spans the Swing Era of the 1930's and 40's, to the Rat Pack stylings of the 50's and 60's. Sophisticated, Timeless and always FUN! Music for dancers and listeners of all ages. Shoot me a message and lets get the conversation started. Or give us a call 516-779-6813
Join me and my "Gotham City Swingers" Sunday, March, 11th @ 8:30pm.  "Almost Spring Jazz n Swing"
The Gotham City Swingers perform classic and original arrangements from the Swing Era, to the Rat Pack Stylings of the 50's and 60's. Both listeners and dancers will Thrill in the sight, sound, and energy of a full 9-piece jazz and swing ensemble.. First set starts at 8:30. Won't you join us?